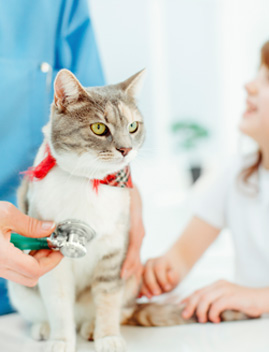 Unrivaled Pet Care in West Los Angeles
When it comes to finding a veterinary practice for your pet, you want a place where he or she can receive first-rate care and be treated with compassion and professionalism. West LA Veterinary Group offers both and more. We can address a variety of your pet's needs, whether it's a standard wellness exam or dental care. Our veterinary clinic combines high-quality medicine with concierge service to give you and your pet the caliber of care you both deserve. Conveniently located in the middle of West Los Angeles, our full-service veterinary clinic gladly welcomes dogs and cats from Los Angeles and surrounding areas, including Beverly Hills, Culver City, Westwood, Santa Monica, Pacific Palisades, Bel Air, Brentwood, Mar Vista, and Cheviot Hills.
Our Promise to You
We welcome every pet and owner into our facility as family and treat them like nothing less. Taking the unique needs of each patient into consideration, we tailor our services to the specific needs of every pet we meet, keeping their well-being in mind at all times. We also take the time to ensure that pet owners have sufficient information about their pets' health status, and to answer any questions that are presented. Our goal is to partner with you in giving your pet high-quality, compassionate care through every life stage.
About Our Veterinary Services in West Los Angeles
West LA Veterinary Group opened its doors to the public in the spring of 2016 under the leadership of Dr. Cynthia Quezada and Dr. Connie Kim. As a full-service pet clinic, we offer a wide range of veterinary services all under one roof, including comprehensive, modern pet dentistry; pet surgery; and even pet laser therapy. Our facility is equipped with separate surgical and dental suites, complete with state-of-the-art monitoring equipment. We also have a full in-house laboratory, where we perform a variety of veterinary diagnostic tests, with many results available the same day.
Learn More About Our Veterinary Clinic in West Los Angeles
Our website was designed with the needs of our clients in mind. Please feel free to spend a few minutes becoming more familiar with our veterinary clinic by meeting our team, reading about our services, and viewing our photo gallery. We look forward to meeting you and your pet and becoming your family's veterinarians for years to come. Please let us know if you have any questions about our services or facility and if you'd like to schedule an appointment. We can be reached at 310-478-5915.