Are You a New Client of West LA Veterinary Group?
West LA Veterinary Group welcomes you to our pet clinic in West Los Angeles! We look forward to meeting new pets and friendly faces, and we strive to make your first visit—and every visit—as pleasant and convenient as possible. Please consider our New Client Policy below so that we can better help you with your pet's first appointment to our veterinary practice.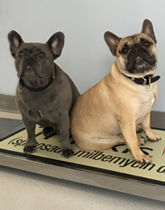 New Client Policy
To ensure that your pet can be seen in a timely manner, we ask that you arrive 10-15 minutes prior to your scheduled appointment time. This will allow for you to fill out our New Client Registration Form and to answer any questions you may have before the appointment. Please bring all pertinent health records from your previous veterinarian, if applicable. If the appointment is for a puppy or kitten exam, or if your pet is experiencing gastrointestinal issues, please bring a fresh stool sample so that we can test for intestinal parasites. We typically conduct a comprehensive wellness exam on all first-time patients to establish a wellness profile that can be used for all future visits.
To schedule your pet's first visit at West LA Veterinary Group in West Los Angeles, or if you have any questions about what to expect during your pet's first visit, please call us at 310-478-5915.