Pet Grooming in West Los Angeles
West LA Veterinary Group offers professional pet grooming services as well as medicated baths for patients with specific dermatologic needs. Our goals are to make sure your pet looks his/her best, and also to improve their coat and skin health. We are very attentive to the specific needs of our patients and their owners' concerns, and we customize our grooming services accordingly.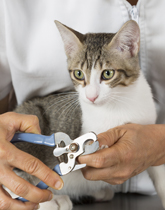 Bathing (using only use hypoallergenic and soap-free shampoos)*
Brushing and de-matting
Medicated baths (customized for your pet's skin condition)
Sanitary clips
Nail trimming
Anal gland expression
Ear flushing
*Eyes are always lubricated before baths to prevent shampoo from getting into your pet's eyes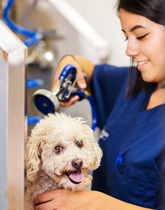 Benefits of Professional Pet Grooming
Having your pet groomed on a regular basis can provide many health benefits and keeps your pet looking and smelling great. It allows for early detection of skin diseases, ear infections, and external parasites. The sooner an issue is discovered, the sooner it can be treated. Our groomer will immediately notify one of our doctors if a problem is suspected. Professional pet grooming is also important in helping prevent skin infections and painful hair matting. The benefits of regular brushing and nail trimming are detailed below:
Brushing:
Brushing can remove dead hairs, dandruff, and debris and stimulate the natural oils in the hair, resulting in a smooth, healthy, shiny coat. It can also prevent your dog's coat from getting matted and your cat from getting hair balls.
Nail Trimming:
Regular nail trimming can help reinforce healthy foot structure and prevent nail injury and curling, which can lead to infection.