Pet Surgery in West Los Angeles
Many pets will have to undergo surgery at some point in their lives. As a pet owner, you want your companion to receive the best possible surgical care in a safe, comfortable environment. West LA Veterinary Group understands these concerns. Our facility features a modern surgical suite, where we perform surgeries with the safety and comfort of our patients in mind. We use cutting-edge instruments and technology, including anesthetic monitoring equipment and body temperature regulation during surgery. Our doctors have years of experience in veterinary surgery and offer their expertise with precision and compassion.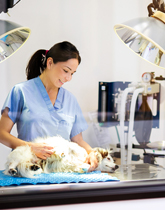 Most Common Surgeries We Perform
The doctors at West LA Veterinary Group perform a number of general and soft tissue surgeries in our clinic, including:
Ovariohysterectomies (spays) and neuters
Mass/lump removal
Foreign body removal
Laceration (wound) repair
Hernia repairs
Oronasal fistula repair
Prolapsed gland of the third eyelid ("cherry eye") repair
Enucleations
Entropion correction
Cystotomy
Biopsies
Hematoma repairs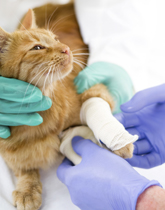 About Your Pet's Surgery
We will address any questions and concerns that you may have prior to your pet's surgery. We keep our patients' safety at the forefront during surgery, and we perform a pre-anesthetic physical exam and recommend blood work before every procedure. This allows us to determine if there are any underlying health issues that need to be addressed before administering anesthesia. Once your pet has been cleared for surgery, we proceed with the preparation and surgery.
IV catheter is placed for fluids, anti-pain medication, antibiotic, and anesthetic administration
Monitoring equipment is connected to monitor vital signs throughout the procedure, such as blood pressure, heart rate, respiratory rate, blood oxygen levels, and body temperature
Depending on the procedure, your pet may be intubated to protect his/her airway and to administer an inhalant anesthetic
Incision site is sterilized and shaved
Surgery is performed
Anesthesia is reduced upon completion of surgery
Pet is moved to recovery area
While your pet is recovering, we will contact you with a status update and let you know when he/she will be ready to go home. You will receive detailed discharge instructions for at-home care upon your arrival as well as any necessary medications to be administered at home. We will also address the typical post-surgical behaviors so you will know what to expect when your pet is recovering at home. Please feel free to ask any questions you have at this time. You may also call us if you have any further questions about your pet's recovery at 310-478-5915.