Our Los Angeles Animal Hospital
You're not going to find better medical care for your dog or cat in Los Angeles anywhere but at the West LA Veterinary Group. Our Los Angeles animal hospital is a full-service facility, meaning we provide everything your family pets could ever need, all under one roof. These services range from routine checkups to pet grooming. Whatever your furry friend needs, our team will provide it efficiently and compassionately.
Our Los Angeles animal hospital just recently opened to the public in the spring of 2016. So, we have recent cutting edge technology available to provide your furry friend with care tailored to their personal needs. Our pets and owners will also receive prime service that you both deserve. So, if you haven't seen the West LA Veterinary Group yet, come soon.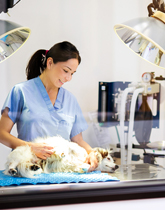 Our Los Angeles animal hospital provides the following services for all pets:
Pet wellness for dogs and cats of all ages, including physical exams, vaccinations, fecal and/or heartworm tests if needed, as well as bloodwork
Senior pet care, where our older dogs and cats will be examined and monitored even more closely for age-related health risks
General veterinary medicine, where we treat and manage various conditions in your pets, including diabetes, infectious diseases, cystitis, and much more
Pet dermatology services, where we learn about your furry friend's allergies and causes for skin conditions, as well as take cultures of the skin
Diagnostic testing in the form of x-rays, blood, urine, and fecal tests, plus much more
Pet laser therapy, which helps with chronic pain in dogs and cats due to conditions such as arthritis
Pet surgery, where we perform a variety of procedures, including spays and neuters, mass, lump, and foreign body removals, laceration and hernia repairs, and more
Pet dentistry, including scaling and polishing of teeth, dental x-rays, and tooth extractions if they are needed
Pet grooming services, which include regular and medicated baths, brushing and de-matting of fur, nail trimming, ear flushing and more
If you want your pet to experience all that the West LA Veterinary Group has to offer, contact us at 310-478-5915 for an appointment.